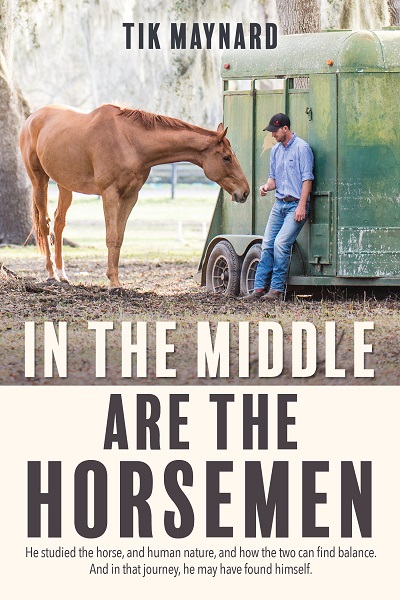 "This is not horsemanship versus eventing; it is about laying a proper foundation before specialization. To see Tik Maynard bridging these two worlds in his quest to become a real horseman will inspire generations to come and contribute to making a better world for horses and the people who love them." 
~Pat Parelli, Bestselling Author, Founder of Parelli Natural Horsemanship®
In 2008, 26–year–old Tik Maynard faced a crossroads not unlike that of other young adults. A university graduate and modern pentathlete, he suffered both a career–ending injury and a painful breakup, leaving him suddenly adrift. The son of prominent Canadian equestrians, Maynard decided to spend the next year as a "working student." In the horse industry, working students aspire to become professional riders or trainers, and willingly trade labor for hands–on education. Here Maynard chronicles his experiences–good and bad–and we follow along as one year becomes three, what began as a casual adventure gradually transforms, and a life's purpose comes sharply into focus.
Over time, Maynard evolved under the critical eyes of Olympians, medal winners, and world–renowned figures in the horse world, including Anne Kursinski, Johann Hinnemann, Ingrid Klimke, David and Karen O'Connor, Bruce Logan, and Ian Millar. He was ignored, degraded, encouraged, and praised. He was hired and fired, told he had the "wrong body type to ride" and that he had found his "destiny." He got married and lost loved ones. Through it all he studied the horse, and human nature, and how the two can find balance. And in that journey, he may have found himself.
"Both a fascinating record of a young man's quest to find his place, and a vivid portrait of an industry and
a culture built upon on one of our most ancient and transformative relationships, that between the
human and the horse. Acutely observed, vividly told, and not to be missed."
~ Kathy Page, Author of Alphabet and Paradise & Elsewhere
"My generation began a revolution in horsemanship, and it is Tik's that will continue it. For that I am grateful. A must read."  
~Monty Robert, Horseman and New York Times Best Selling Author
"Tik Maynard is not only a fantastic writer but a special horseman. His ability to work naturally through a horse's problems and to communicate what he does in a way people can understand is a gift. He has a never-ending want for knowledge about horses, and I hope he continues to share his experiences." 
~Lauren Bliss Kieffer, US Olympian
"People have a hard time being aware. Awareness of their environment, of other people, of what effects their actions have on others, animal or human. Self-awareness is even more rare. This is a book about self-awareness. How does one learn? How does one process the world? Observation is a necessity to be successful in an animal world. How one processes one's own observations is a key to being successful as a human being. Tik Maynard has opened up and shown his ability to be self-aware and observational. This is an insightful book about the journey to acquire knowledge and then use that knowledge to help others,
human and horse. It's a joy to read." 
~David O'Connor, Fédération Équestre Internationale (FEI) Eventing Chair, Former Chef d'Equipe US Eventing Team,
Former President United States Equestrian Federation (USEF), Olympic Gold Medalist