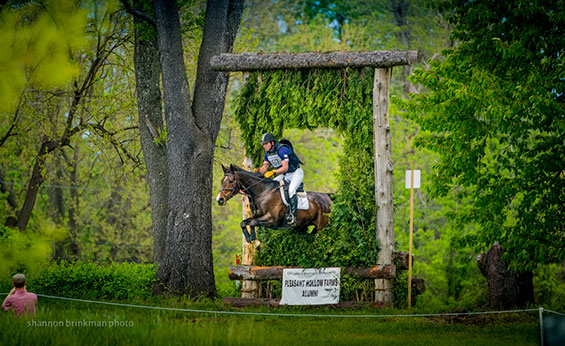 Once we have a partnership we start training. Competition drives us to improve and reach for our potential. The fitness and athleticism of horses is improved through work and practice, both mental and physical. Each horse is pushed to reach their potential but also to go in the direction that most meets their innate abilities. The goal: To compete with the best in the world on the International stage.
I've always had a passion for competition. Basketball, track, even ultimate frisbee. I went to the Pan-American Games in Modern Pentathlon.
I've also spoken to lots of sports psychologists. A lot of what they say can be summed up in two points: have self-love, and have purpose. If you have these two you may reach the nirvana or essence of sport: the be in the zone.
The zone is that illusive, un-thinking, place where times slows down. It is a place where all you care about is the journey. The award, the blue ribbon, does not exist in this moment. It is where you are doing your best and are completely unaware of anything else.
I crave this for myself, but I also want it for the horse. Once we are comfortable with each other and also comfortable in our own skin than we strive towards a goal.
There is no feeling like jumping. I love it and my horses love it. Jumping and eventing is our rush and our drug. We push the boundaries of what is possible. Together.
Sapphire has given me so much. We drove across the country together from Vancouver to NJ. She was with me when I worked for Anne Kursinski. She was the first horse I evented on. And she is still going strong, we did our first CIC 3 * at Plantation in 2014. My dream is that she will retire in the next couple years and maybe have a foal.
Dutch belongs to Christina Aharoni and is bred by GoldHope Farms in Pa. I have worked with Dutch, a 2008 Dutch Warmblood Gelding, since his first competition. I don't think I have ever known a horse as well as I know Dutch. It is truly special being a part of Team Dutch.
Pik C is young horse that belongs to Betsy Goodwin. She has come such a long way and we did a horsemanship demo together last summer for Young Riders and Pony Clubbers. Sinead Halpin said "Pik C was so attentive and interested, it was fantastically fun to watch." This is Pik C in one of her first training runs as a young five year old: